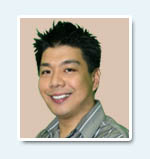 Dr. Eduardo Cabantog is a graduate of Medicine from Pamantasan ng Lungsod ng Maynila, a pioneer, leader, and model institution of higher learning in the Philippines. After acquiring his license as a Medical Doctor and serving as a company physician in one of the well-known local medical and clinical services provider for a couple of years. He practiced his medical expertise in some of the most reputable hospitals in the Philippines. He ventured into the networking business and joined other networking companies before instituting Alliance In Motion Global, Inc. in 2006. His remarkable success in his new found career and having survived difficult challenges molded a great leader and survivor fit to lead a fast growing company in a world of multi-level marketing business where the competition is very stiff.
Ad blocker interference detected!
Wikia is a free-to-use site that makes money from advertising. We have a modified experience for viewers using ad blockers

Wikia is not accessible if you've made further modifications. Remove the custom ad blocker rule(s) and the page will load as expected.