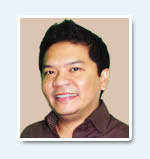 A Bachelor of Science in Computer Engineering graduate of Adamson University. He was hired by the leading telecommunications company in the Philippines right after graduating in college. He earned respect in the industry after creating millionaires that have become icons in the world of multi-level marketing business. He is one of the pioneer networker that has mentored some of the famous personalities in the industry. He is fondly called as the "Mentor of all Mentors". He has made alliance with all these icons and together they established a fast growing networking company in the Philippines today, the Alliance In Motion Global, Inc.
Ad blocker interference detected!
Wikia is a free-to-use site that makes money from advertising. We have a modified experience for viewers using ad blockers

Wikia is not accessible if you've made further modifications. Remove the custom ad blocker rule(s) and the page will load as expected.