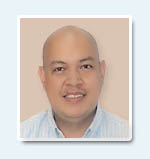 Andrew is a graduate of Bachelors of Science Major in Management at Far Eastern University. He started as a crew member of Pizza Hut and rose from the ranks up to Store Manager in the No. 1 Fast food Chain in the Philippines. Andrew joined a network marketing company and he was able to build an organization in several provinces of the country, a member of the Millionaires Club, Speakers Bureau and Car Incentive Qualifier. Andrew went back to food industry at Pancake House as Store Manager and Area Manager in Greenwich before joining Alliance in Motion Global, Inc. as Operations Manager. His mission in joining Alliance In Motion Global, Inc. is to share his 20 years of experience in Customer Service bringing it to the next level and to add value to all the stakeholders of Alliance In Motion Global, Inc.
Ad blocker interference detected!
Wikia is a free-to-use site that makes money from advertising. We have a modified experience for viewers using ad blockers

Wikia is not accessible if you've made further modifications. Remove the custom ad blocker rule(s) and the page will load as expected.