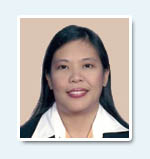 Gladys is a graduate of Bachelor of Science in Commerce Major in Accounting at University of Sto. Tomas, the oldest university in the Philippines. On March 1990, she received her license to practice as a Certified Public Accountant. She was a former Internal Auditor and Trainer of an international organization. She worked as the Planning & Budget Officer and Accounting Manager in a well-known international RTW brand. She has broad knowledge and experience in her accounting career. Mrs. Roman also has a relative exposure in the networking business prior to her employment as the Finance Manager of Alliance In Motion Global, Inc. Accounting and networking wise, she is undoubtedly capable of handling all the finance concerns of our company.
Ad blocker interference detected!
Wikia is a free-to-use site that makes money from advertising. We have a modified experience for viewers using ad blockers

Wikia is not accessible if you've made further modifications. Remove the custom ad blocker rule(s) and the page will load as expected.