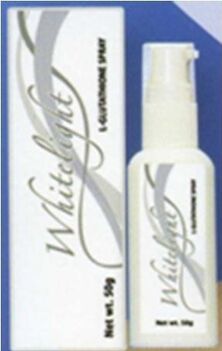 330px|right Whitelight is the very first Sublingual Glutathione gel spray. It is used by spraying the gel under the tongue and holding it for about 20 seconds before swallowing. Since the application method is Sublingual,it is proven to work faster than its capsule counterparts because studies show that sublingual administration of drugs or supplements allows the substance to be absorbed directly in the bloodstream,therefore bypassing the normal digestive methods that can sometimes weaken the substance's effect. Another thing is that Whitelight is especially formulated for sublingual application,which means that it is still more quickly absorbed than most substances. A bottle of Whitelight also contains Vitamin C to help disseminate Glutathione in the body.
Ad blocker interference detected!
Wikia is a free-to-use site that makes money from advertising. We have a modified experience for viewers using ad blockers

Wikia is not accessible if you've made further modifications. Remove the custom ad blocker rule(s) and the page will load as expected.